Darwtober 2023 – New topic for the next 10 and I wanted to reuse a topic from 2019 (faces and texts/lyrics), now with full body + texts 🙂 And of course I made a playlist with all 10 songs😌
(Lyrics used in the drawings are beneath the images)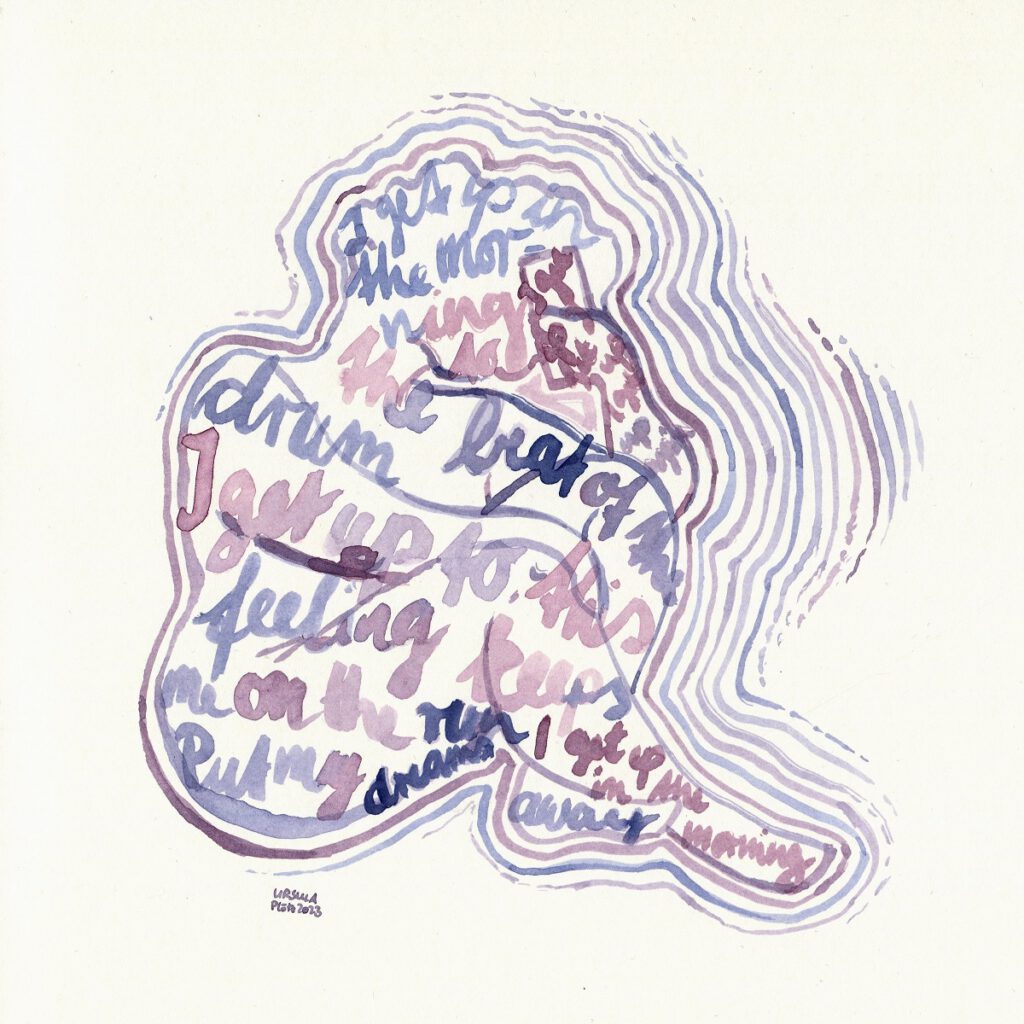 Lyrics:
11: "Lose Your Soul" by Dead Man's Bones:
I get up in the morning
To the beat of the drum
I get up to this feeling
Keeps me on the run
I get up in the morning
Put my dreams away
I get up, I get up, I get up again
12: "Oh My Love" by Albertine Sarges:
Rain never fell so fast
And never felt that way
At the grocery store at night
Kottbusser tor
Oh my love, oh my love
If living was that easy
Why wouldn't it be easy with me?
13: "Forever In Sunset" by Ezra Furman
Do you remember when we thought the world was ending?
Seems funny now
The future is a text message sending
Out, out, out
I live forever in sunset
14: "Love Your Shotgun" by Be Your Own Pet
But I was wrong, so wrong
Been thinking about this for far too long
And I'm tired, so tired
I'm tired of this Goddamn love riot
15: "Valentine, Texas" by Mitski:
Let's step carefully into the dark
Once we're in, I'll remember my way around
Who will I be tonight?
Who will I become tonight?
16: "As I Fall" by Future Islands:
I can't touch you anymore,
I can't tell you how I feel,
As I fall, You would walk.
Heavy hearts do bury words
17: "I'm Not Sure" by Leyya:
We live and expand
And get what we don't need in exchange for all that
18: "GONE, GONE / THANK YOU" by Tyler, the Creator:
Whether it's rain or shine, I know I'm fine for now
My love's gone, my love's gone
Or maybe it's just a dream that I can't seem to wake up from
My love's gone, my love's gone
My love's gone, gone
19: "Gone For Pearls" by Scarlett O'Hanna:
Faces beaten by the weather, skins bit by the salt
the youngest watch their elder go under
repeating their whistling sound
gone for pearls, gone for abalone
20: "The Here And After" by Jun Miyake and Lisa Papineau:
Spawn inside this memory again
One earthbound minute, unbent
A moment broken
Softly spoken, magic
So here we are
Happily, happily, (ever) after